Advice from Audio Preservation Experts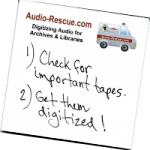 Many recent studies have determined that programs on audio tape need to be digitized and the digital files preserved. The following studies review the reasons, the processes, and the standards. In addition to preservation, digitized files can also be used to create CDs and downloadable files so patrons and clients can listen to the programs. For more wisdom from the experts, download these reports.
DOWNLOAD PDF   In Good Faith: Collection Care, Preservation, and Access in Small Theological and Religious Studies Libraries
A spring 2014 survey targeted to organizations with staff sizes of less than 5 full-time equivalent, and budgets under $500,000. 235 survey responses were received from a wide variety of organizations, including those which are part of an educational institution, organizations affiliated with churches, synagogues, or other houses of worship, independent libraries and archives, and various "other" types of theological and religious-based collecting organizations.
---
DOWNLOAD PDF   Tape Degradation Factors and Challenges in Predicting Tape Life
by Richard L. Hess, published in January 2009. It was originally presented at the Audio Engineering Society Conference in San Francisco, California in 2006 and a version was presented at the Association of Recorded Sound Collections Conference in Milwaukee, Wisconsin, in 2007. It is an excellent analysis of the many degradations suffered by audio tape.
---
DOWNLOAD PDF   ARSC Technical Committee Preservation of Archival Sound Recordings
Version 1, April 2009 – recommendations for preserving sound recordings, and more specifically for transferring sound recordings to an archival digital format, based on the state of the art and the technology in 2009
---
DOWNLOAD PDF   Guidelines for the Creation of Digital Collections: Digitization Best Practices for Audio
From the Consortium of Academic Research Libraries of Illinois, revision of 3/21/13
---
DOWNLOAD PDF   The Library of Congress National Recording Preservation Plan
December 2012, from the Council on Library and Information Resources and The Library of Congress
---
DOWNLOAD PDF   Sound Directions: Best Practices for Audio Preservation
from Mike Casey of Indiana University and Bruce Gordon of Harvard University, 2007
---
DOWNLOAD PDF   Magnetic tape deterioration: recogniton, recovery, and prevention
from Gerald D. Gibson, Library of Congress, a presentation at the IASA Conference in Perugia, August 16, 1996
---
DOWNLOAD PDF   Magnetic Tape Deterioration: Tidal Wave at Our Shores
by Jim Lindner
---
DOWNLOAD PDF   Risks Associated with the Use of Recordable CDs and DVDs as Reliable Storage Media in Archival Collections – Strategies and Alternatives
by Kevin Bradley, National Library of Australia, UNESCO, Paris, 2006 – planning for long-term storage of digital files
---
DOWNLOAD PDF   The Preservation of Magnetic Tape Collections: A Perspective
from the Image Permanence Institute of the Rochester Institute of Technology, December 22, 2006
---
DOWNLOAD PDF   The Triangle Research Libraries Network's Intellectual Property Rights Strategy for Digitization of Modern Manuscript Collections and Archival Record Groups
January 2011
---
DOWNLOAD PDF   Well-intentioned practice for putting digitized collections of unpublished materials online
Revised 05/28/2010